Discover more from Africa Podfest's Newsy
A monthly spotlight of podcasting developments and opportunities in Africa!
March 2023: Who Is Africa Podfest? + Africa's First Ambies Nomination
A warm welcome to our new readers. You are in very good company this March 2023 here at the Africa Podfest Newsy.
In this Newsy Newsletter
Who Is Africa Podfest? - March 2023

Founder Spotlight: Melissa Mbugua and the D&AD Awards Opportunity

Africa's First Ambies Nomination

Event: Podfest Cairo on Sat. March 4 in Cairo

New Episode: Africa Podfest's Sema Nasi pod : Podcasting in Francophone Africa

Podcaster Opinions: Busy Being Born talks Podcast Hiatus(es)
---
Who Is Africa Podfest?
Allow us to spend March 2023 exploring our work, partnerships and journey.
Africa Podfest started off as a podcast festival (located at africapodcastfestival.com) however since then, we have expanded our scope of work to include podcast production for Pan-African podcasts, groundbreaking African podcast research and more (over at podcasting.africa). We are women-led and have worked with over 100 African creatives, researchers and media innovators on our initiatives.
We will spend much of March 2023 reintroducing ourselves to you. We hope that you find resonance with our values and our vision to centre underrepresented African voices through podcasting. We are Africa Podfest.
---
Founder Spotlight: Melissa Mbugua
This year I will be joining some of the biggest and brightest names in the global creative community as a Jury member of D&AD Awards 2023 in the Impact and Future Impact categories. It's truly a privilege and responsibility I don't take for granted, being able to contribute my perspective from Africa's buzzing, diverse and bold creative scene!

D&AD Awards are recognised globally as the ultimate creative accolade, entered and judged by the best from around the world. Since 1962, D&AD has been inspiring a community of creative thinkers by celebrating and stimulating the finest in design and advertising. Entries for the Awards are being accepted as we speak and will be closing on Wednesday 15 March 2023. To learn more about the categories and how to enter please visit the link below:  
---
Africa's First Ambies Nomination : I Will Not Grow Old Here
Africa Podfest is excited to amplify the upcoming Ambies which for the first time will feature an African podcast nominee, Radio Workshop's I Will Not Grow Old Here. The Radio Workshop podcast, launched in 2021, tells intimate and layered stories about a broad range of youth experiences in Africa. The podcast is produced in collaboration with its youth reporters and radio station partners.
The African Union estimates that Africa has the youngest youth population with over 400 Million between the ages of 15-35. What is disheartening is that a significant percentage of youth in Africa are underemployed and unemployed, which is a ticking countdown to an African future few audio projects manage to carefully unpack. I Will Not Grow Old Here is a three-part story-driven (narrative) podcast which grabs the listeners attention - and skilfully navigates our understanding of how millions of pieces of African youth realities fit together from the perspective of Mary-Ann Nobele.
Mary-Ann Takes Us Through Alexandra
Mary-Ann Nobele is a 23 year old youth reporter who joined one of Radio Workshop's partner stations AlexFM when she was 16 years old. In 'I Will Not Grow Old Here' she is a reporter and character, leading us through the highs and lows of life in Alexandra township, South Africa.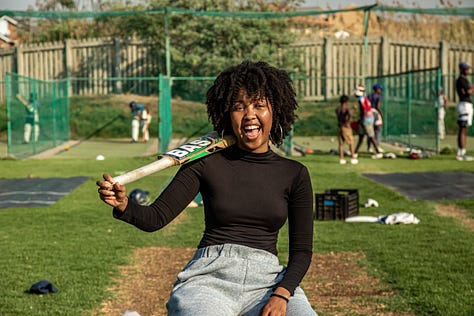 The Producers and Team
Mike is executive director of Radio Workshop and the sound engineer for the podcast. Originally from the US himself, he has been working and living in Cape Town, South Africa for over twenty years. Lesedi is the podcast editor and, although having a background in documentary film, she has found her home in the audio space. Dhashen holds the role of senior producer. In short, when he is not walking his three dogs, he is a narrative journalist making stories about Africa.
The I Will Not Grow Old Here team: Lesedi Mogoatlhe, Rob Rosenthal, Dhashen Moodley, Jo Jackson, Mary-Ann Nobele, Mike Rahfaldt, Martha O'Donovan
The Ambies
The Ambies are to podcasts, what the Oscars are to Film and TV. A very big deal. The Ambies are global Awards for Excellence in Audio. The distinction of these Awards is that they are currently voted on by one of the largest single podcaster community vote programs, the Podcast Academy with 1,000 members.
Podcasts can submit their podcasts for the Ambies the year before in a variety of categories. The 2023 nominees were selected from over 1,700 submissions and narrowed down by a panel of judges. The awards are typically dominated by large global players with significant production and distribution resources. It came as a very welcome surprise to Radio Workshop's I Will Not Grow Old Here to be nominated in the Best Documentary Podcast category - a first for an African podcast.
For the first time, the Ambies will be part of the Podcast Movement Evolutions conference event in Las Vegas USA
Radio Workshop At Podcast Movement Evolutions
The awards ceremony will be streamed on the Amazon Music channel on Twitch from 6-7:30 p.m. PST. 
If you are also going to be in Las Vegas and would like to meet with the Radio Workshop team, please send an email to naomi@radioworkshop.org. 
---
Event: Podfest Cairo on 4th March
This Saturday 4th March 2023, Podfest Cairo will be held at the AUC Tahrir Campus in Cairo. Featuring keynote speaker Ramsey George of Sowt Podcasts among other leading podcast voices from the MENA region, the event will run from 1-7 pm. The event is free and there is no registration. Simultaneous translation will be available. Follow #Egypodcasters for updates from the event.
Podfest Cairo was founded by Professor Kim Fox, a professor of journalism at the American University in Cairo. She is a researcher, teacher, and global industry advocate for centering new voices in the audio industry. Best known as the Podcast Professor, Fox has extensively contributed to scholarship and practice in the global podcasting space and sits on the boards of AIR Media and the Broadcast Education Association. She also hosts the award winning Ehky Ya Masr podcast.
We are privileged to have had Kim Fox as a guest on the Sema Nasi podcast and you can listen to the episode below.
---
NEW EPISODE: Sema Nasi Podcast
Podcasting in Francophone Africa feat. Sinatou Saka
Melissa talks with Sinatou Saka about the latest updates on Oxo Podfest (Festival francophone du Podcast Africain) and how it aims to be an inclusive and collaborative platform for African podcasters, especially the francophone ones. Sinatou tells us the importance of platforms such as Oxo Podfest for African podcasters in a digital environment that is neither inclusive nor multilingual.
---
Podcaster Opinions : Podcast Hiatus (es)
Busy Being Born Podcast
In this Newsy, Kamande Wambui and Kigondu Martin of the Busy Being Born podcast from Kenya 🇰🇪 have their say:
Should Podcast hiatus be planned or should they be impromptu depending on situations?
Assuming there aren't any unavoidable events that necessitate an impromptu hiatus, then it is ideal if it is well planned. Podcasting, like most other ventures, is tedious and non-linear, so there are times when a break will be necessary. Remaining consistent, according to the literature and the 'success' stories, seems to be a key ingredient of scale, so any break taken would hopefully be well structured and communicated to the audience, however small. 
Planning the break also helps design the 'off-season' activities accordingly. Our podcast, for instance, has taken a few breaks from the studio, but our audience still got their bi-weekly dose since we batch recorded episodes, and just released them with the same frequency. The break was spent reviewing and strategizing for the next run of episodes, and we found that to be quite useful.
Q: As a podcaster(s) who has never taken a long break, what would you do in your break if time, and other resources were not an issue?
An actual break would be an opportunity to spend more time planning, reading/researching and being really deliberate about the schedule of guest interviews and the release calendar. 
We also write on our blog, but because of the time intensity that comes with the podcast, we end up not writing as much as we always intend to. A break would also, maybe, provide such an opportunity. That said, we really enjoy doing this, and the workload notwithstanding, a serious break is not something we desire.

Searchable Africa Podcasting Studios (now accepting studio features):
Africa Podfest is developing a new listing of African podcast studios from small to large scale and we invite you to list your studio, products and services.
Thanks for reading Africa Podfest's Newsy! Learn more at Africa Podfest: www.podcasting.africa Subscribe for free to receive new posts and support our work.