Discover more from Africa Podfest's Newsy
A monthly spotlight of podcasting developments and opportunities in Africa!
July 2023: Before We Go...
A Mid Year Celebration Before Our Annual Break
July begins with celebrations! First, we are featured on 77 Percent, a DW show for Africa's youth aged under 35. Watch that exclusive here
South Africa tops the list of remarkable highlights this month. Radio Workshop's I Will Not Grow Old Here wins the the 2023 One World Media Podcast and Radio Award, comedian Trevor Noah announced a new Spotify Original weekly podcast and anthropologist academic podcaster Nosipho Mngomezulu's The Academic Citizen podcast featured in this month's Nature magazine. From the world of African football comes a new podcast. 4-time African Footballer of the Year, Yaya Toure, Africa Cup of Nations winner, Efan Ekoku, and former DR Congo captain, Gabriel Zakuani, are the hosts of Match of The Day Africa: Top 10, a new football podcast.
Thanks for reading Africa Podfest's Newsy! Subscribe for free to receive new posts and support our work.
---
Did you know Africa Podfest has a LinkedIn page? Join the conversation today!
---
In this Newsy newsletter:
Kabrazen Podcast Consortium at Podcast Movement 2023
The first multilingual African podcast production featuring stories of brazen African women in English and Kiswahili is headed to the biggest podcast conference in the world. KaBrazen children's podcast is a production by the LAM Sisterhood and the KaBrazen Consortium is a partnership between The LAM Sisterhood, Za Kikwetu Productions and Africa Podfest to expand the KaBrazen podcast into multiple African languages. It is an important pillar in the strengthening of multilingual African children's podcasts particularly this July, which will feature new episodes in Kiswahili.
Podcast Movement is the world's biggest podcasting conference and will be held from 21-24 August in Denver, Colorado. Considering the value and potential of African multilingual children's podcasts, we submitted our panel idea for consideration in early 2023. Out over 650 proposed sessions, our panel was among an extremely limited number of spots beating nearly 90% of competing submissions to be selected for the Society, Culture and Advocacy Track at PM 23 Denver.
The illustrious panel is titled 'Audio & Podcasts Leading The Universe of Multilingual African Children's Content' It will feature The LAM Sisterhood's Aleya Kassam - The LAM Sisterhood conceptualised KaBrazen podcast, Ubongo Learning's Creative Director Michael Baruti, Ubongo Learning is a pioneer in African Children's Media and Edutainment(Tanzania) and Commonsense Media's Head of Digital and Content Creation, Laura Ordoñez - Commonsense Media provides Age Based Media Reviews for Families and moderated by Africa Podfest cofounder, Josephine Karianjahi.
We are looking forward to the conference and this panel.
---
Love our work? You can join in our celebration July by buying us a coffee below
---
WINNERS! I Will Not Grow Old Here : Podcast & Radio Award, One World Media Award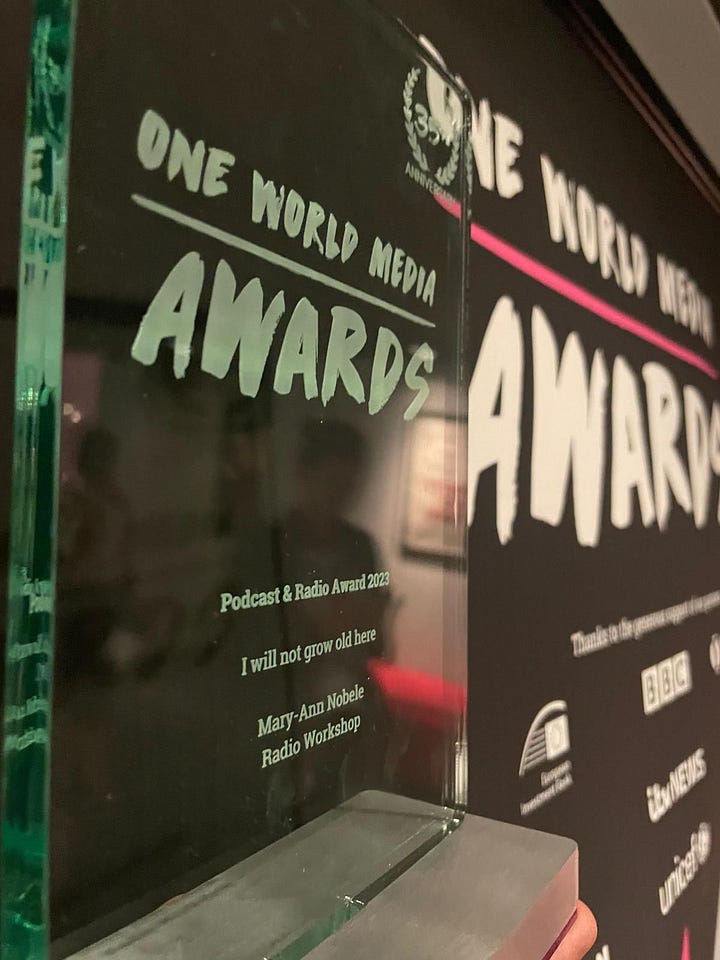 Mary-Ann Nobele and the Radio Workshop team are having a phenomenal year. This is in no small part due to the rise and recognition of the I Will Not Grow Old Here series by Radio Workshop - firstly as a part of a successfully completed production brought together by a stellar team and secondly as the global recognition for this multi-award nominated podcast grows. Mary-Ann was raised in Alexandra, where she reported for the I Will Not Grow Old Here series. Situating life in Alex as youth reporter on this series is one thing. But Mary-Ann is at the heart of the story driven podcast too, weaving in her own experiences and the sounds and daily life in Alexandra to help the listener discover a clearer snapshot of life as a young person in South Africa.
For the last 35 years, One World Media awards have celebrated reporting from the global south to tell stories which connect us all. I Will Not Grow Old Here beat out a list of formidable contenders to take home the 2023 Podcast and Radio Award at an awards ceremony held in London on 21st June 2023. Congratulations!
---
Africa Podfest At The 2023 Global Media Forum
The theme of the 2023 Deutsche Welle Global Media Forum was 'Overcoming Divisions' and hosted nearly 2,000 global delegates from the world of media. Africa Podfest cofounder Josephine Karianjahi joined Mercy Abang, Executive Director of Hostwriter on a panel convened by sef:bonn, a German nonprofit based in Bonn. The panel 'Building Bridges – Journalistic Initiatives (Re)establishing Trust between World Regions' discussed how successful journalists have been in doing this, their major challenges. Notably, we discussed ways of bridging from the world of audio and podcasts, fighting persistent negative stereotypes in writing about Africa and partnership across the world and how to working equitably with African media makers
---
Informing Global Community Building: Africa Podfest & Bulgaria's Channel 4 Podcast
Africa Podfest is committed to continuing global conversations about community and podcasting. We joined Bulgarian Channel 4 podcast in June for a candid chat about the Africa Podfest journey and the critical role of building community while developing your podcast. Channel 4 podcast is part of Foundation 42 a non-for-profit organization based in Sofia, Bulgaria. Through the foundation it organizes an informal group of podcasts that are based in Bulgaria and that feature social topics such as ecology, volunteering, LGBTIQ+ rights, critical thinking, active citizenship and other. The collective gathers each month to exchange resources, meet with new presenters and test diverse strategies to create a better product and to reach our audience.
If you would like us to join you as speakers at your next event, contact us below:
---
APVA Awards 2023 : Judges Announcement
APVA has just announced a distinguished panel of judges, whose expertise, experience, and discerning eyes will be at the heart of APVA's momentous celebration of talent and achievement through the African Podcast and Voiceover Artist Awards. Africa Podfest is proud to partner with APVA Awards 2023
To meet the judges and learn more about the APVA Awards visit their website
---
Taking A Break
Africa Podfest Newsy has taken a break every July and August since we got started. We are taking time to strategise, rest, refocus and gear up for the upcoming year. Our next edition will be our September 2023 Newsy newsletter.
Like many startups we have experienced the shrinking availability of funding and investment for our work. We hope to return more recharged in energy and other resources for the days to come.
You can drop us a line on our pages, revisit our Youtube page to catch up on events you may have missed and also consider taking some time to reset and recharge as well. From an hour, to a few days to taking breaks from routine and incorporating rest if you can, try and take this break too.
Thanks for reading Africa Podfest's Newsy! Subscribe for free to receive new posts and support my work.