Discover more from Africa Podfest's Newsy
A monthly spotlight of podcasting developments and opportunities in Africa!
Africa Month 2023
Poetry, An Africa Month Playlist and A Spotlight on Mental Health Podcasts from the African Podcast Database
Happy Africa Month! We found this fitting tribute poem for Africa Month which you can hear in the audio snippet above.
"Most people write me off when they see me.
They do not know my story.
They say I am just an African.
They judge me before they get to know me.
What they do not know is
The pride I have in the blood that runs through my veins;
The pride I have in my rich culture and the history of my people;
The pride I have in my strong family ties and the deep connection to my community;
The pride I have in the African music, African art, and African dance;
The pride I have in my name and the meaning behind it.
Just as my name has meaning, I too will live my life with meaning.
So you think I am nothing?
Don't worry about what I am now,
For what I will be, I am gradually becoming.
I will raise my head high wherever I go
Because of my African pride,
And nobody will take that away from me."
― idowu koyenikan, Wealth for all Africans: How Every African Can Live the Life of Their Dreams
In this Newsy Newsletter
An opportunity to get involved with Season 2 of Sema Nasi podcast

Cofounder Spotlight: Melissa Mbugua Joins Esteemed D&AD Judging Panel

Spotlight on Mental Health and Wellness: From the African Podcast Database

An Africa Month Podcast Playlist: Spotify

Bring your podcast idea to life with Africa Podfest podcast productions

New Podcast Production: Fellowship Safaris Podcast
---
Season 2 of Sema Nasi Podcast
We're thrilled to announce that Season 2 of the Sema Nasi podcast is just around the corner! Get ready for even more insightful and reliable takes on African podcasting, straight from the passionate individuals working on podcasts everywhere.
Sema Nasi is a podcast from Africa Podfest that informs, connects, and helps you take action in joining the Africa podcast movement. In it, hosts Melissa Mbugua and Josephine Karianjahi will share perspectives from pioneers in African podcasting about where the young industry is at now and where it is headed.
In Season One, we had the privilege of hosting a diverse range of guests who shared their thoughts on the future of African podcasting and highlighted exciting projects. The response was incredible, and we couldn't be more excited to dive into Season 2.
During Season One, we collaborated with fantastic partners such as Podcast Laundry, SemaBOX Africa, and Afripods. Now, as we embark on Season 2, we're offering a brand-new opportunity for you to become a part of the African podcasting story.
Join us as we continue to explore the dynamic world of African podcasts, amplify voices, and foster meaningful conversations. Don't miss out on this incredible journey. Stay tuned for Season 2 of the Sema Nasi podcast, where together, we'll make a lasting impact on the African podcasting landscape.
If you or your organization would like to be part of Season 2 as a brand partner for the Sema Nasi Podcast email us HERE
---
Cofounder Spotlight
This year Melissa Mbugua will be joining some of the biggest and brightest names in the global creative community as a Jury member of D&AD Awards 2023 in the Impact and Future Impact categories. D&AD Awards are recognised globally as the ultimate creative accolade, entered and judged by the best from around the world. Since 1962, D&AD has been inspiring a community of creative thinkers by celebrating and stimulating the finest in design and advertising.
"It's truly a privilege and responsibility I don't take for granted, being able to contribute my perspective from Africa's buzzing, diverse and bold creative scene!"
Melissa Mbugua is a creative problem-solver committed to broadening cultural and economic space for current and future African generations. She is an entrepreneur, researcher, innovator and artist and works with some of the most innovative technology and culture companies in Africa. Her work has involved seeding civic technology innovation in Africa and Asia, accelerating creative and cultural industries in Africa and sparking the next generation of media companies.
---
Thanks for reading Africa Podfest's Newsy! Subscribe for free to receive new posts and support our work.
---
Spotlight on Mental Health and Wellness
Brought to you by Africa Podfest's African Podcast Database
This month we are thrilled to explore the African Podcast Database, our solution to the podcast discoverability problem to find podcasters putting mental health awareness forward. Africa Podfest launched the African Podcast Database in 2021, and since then, one can find over 400 African podcasts by topic or country in just a few clicks. This means that no matter where the podcaster uploads their content, you can locate them, and reach out on social media, where possible.
This month, we are spotlighting African mental health and wellness podcasts from the African Podcast Database to help you explore mental health awareness from an Africa perspective.
Deb'bo Unfiltered Podcast - English, Wollof and Mandinka - United States
Noggin Notes Africa Podcast - English - S. Africa
No Head Podcast - English - Kenya
Cry Like A Boy - English - France
Conversations With Leelabee - English - Zambia
Do you want to add your podcast to the African Podcast Database? Explore how easy it is to do so right now!
---
---
A Brand New Africa Month Playlist
At Africa Podfest, we celebrate and amplify African podcasters every day. This 2023 Africa Month, we have selected some absolute gems. Featuring children's podcasts, pop culture, wellness, education, business, music, true crime and more, this list of episodes takes you on a complete journey through Africa.
This Africa Month, we have almost 24 hours of African podcast listening curated for you to experience sounds of African podcasters everywhere. You can listen below:
---
New: Africa Podfest Podcast Productions
Africa Podfest started from a love for podcasts. We took this a step further and continue to work on in-house podcast productions every year. In 2021 we worked with the UN Department of Global Communications on the Africa Renewal podcast. In 2022, we produced Season One of the Sema Nasi podcast. This year, we have also started working on a new slate of podcasts, including Fellowship Safaris (see below)
To work with Africa Podfest on your next podcast production, from idea development to marketing and distribution explore all the podcasts we have developed on our podcast production hub below: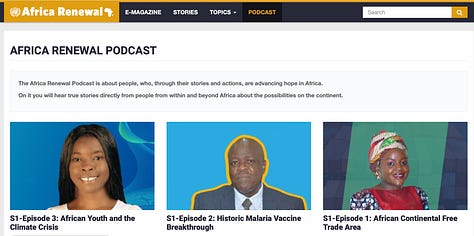 Fellowship Safaris:
The first of these is a medical education podcast focused on people of colour around the world from an African perspective called Fellowship Safaris. Do you have loved ones in medicine? In each Fellowship Safaris episode, Dr Njeri, a Kenyan adolescent medicine specialist interviews medical sector expert guests, thought leaders, and industry insiders who share their unique perspectives on the post-graduate fellowship experience. It's like having your very own team of mentors to guide you through the process! With new episodes every Monday, Fellowship Safaris journeys through the medical subspecialty experiences in Canada, Malaysia, India and more unveils a side of medicine which people of colour experience uniquely. Listen to Fellowship Safaris HERE
---
Thank You Dear Reader
Thank you for taking the time to read about what we are focusing on this May 2023! If you're eager to dive deeper into the world of African podcasting or simply want to connect with us, we invite you to visit our website at www.podcasting.africa.
At Africa Podfest, we are dedicated to empowering and promoting African podcasters, fostering a vibrant podcasting community, and amplifying traditionally underresourced and underrepresented voices. Our platform serves as a hub for knowledge, inspiration, and collaboration within the African podcasting landscape.
By visiting our website, you'll gain access to a wealth of resources, whether you're an aspiring podcaster, a seasoned professional, or simply a podcast enthusiast, our website offers something for everyone.
Don't miss out! Visit www.podcasting.africa today to learn more about what we do and to get in touch with our passionate team.