Africa Podfest Turns One
AFRICA PODFEST NEWSLETTER

Africa Podfest Newsletter: November 2020
PODFEST TURNS ONE
In this month's Newsletter, we celebrate our first year in existence, share free tickets for 2 community events this week & highlight new Podcaster Spotlight ops

Newsy November

Hello Friends of Africa Podfest!
We are at the end of November 2020 and Africa Podfest turns 1 this week (*Vigorous shoulder shaking dance*) fully energized by creating and connecting for African podcasters. As we close out our first year we imagine your full in-trays like ours, your to-do's are overflowing, and the energy may be waning down from an already stretched year.

I hope this slightly longer newsletter will help you better peek into our world and share our excitement about the future of African podcasting. This week, I am grateful for you, friends. Many of you reach out to us with tips, news and valuable feedback every single week.

For those who are active on Instagram, you have joined us for weekly chats with African podcasters and helped us create a welcome to remember. In a space where everything calls for your attention, we appreciate you showing up and taking your seat with us.
Warm greetings,
Josephine Karianjahi
Co-Director, Africa Podfest
Africa Podfest Turns One #AfricaPodfestAtOne
We are ecstatic to be celebrating our 1st year as Africa Podfest on November 27 2020. We are here because of you. True to our form, together with Podfest Cairo we are cohosting an African podcasters event to reflect on the ups, downs and lessons of 2020 called Coping with COVID: An Oral History by African Podcasters in 2020 (free ticket here) featuring podcasters from Angola, Kenya, Tanzania, Nigeria and more.

Amid the super conversation and networking in the event, there may be cake (virtual). For those of you who will not be able to join us, please wish us a Happy Founders Day on our Twitter, Facebook and Instagram #AfricaPodfestAtOne


Upcoming Events
Wednesday Nov. 25 2020 - 6pm Nairobi Africa Podfest Live welcomes Nigel Ndlovu of The Voice Knot podcast from Bulawayo, Zimbabwe

Friday Nov. 27th 2020 – 6pm Nairobi Africa Podfest and Podfest Cairo present Coping with COVID: An Oral History by African Podcasters in 2020 – (Register here)

Wednesday Dec. 2nd 2020 4:00 PM – 5:00 PM CET- Google Podcast & PRX Public Webinar: How To Find and Nurture Your Podcasting Community by Melissa Mbugua & Josephine Karianjahi (Register here for your free ticket)

Friday, Feb. 12th 2021 – Africa Podcast Day & Africa Podfest 2021 (virtual) – Details forthcoming next month.

Make history with Africa Podfest Research :
Fill in this short survey on 2020 African Podcast Audiences conducted by Africa Podfest
Looking Back at November 2020
Audio Recess 2020
Community Conversation | Assembling Your Tribe: Building Your Podcasting Community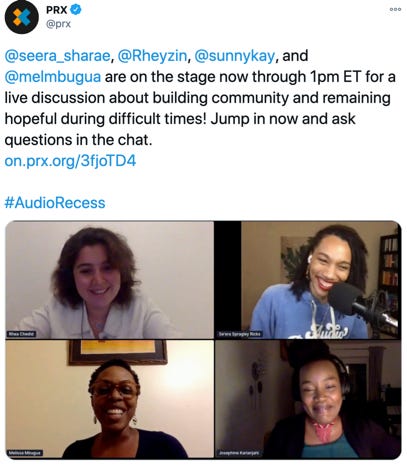 This past weekend many of you may have taken part in Audio Recess, a free all-day experience for podcasters, audio creators and podcast enthusiasts for the first time. This year has been isolating for many, not least of all, fellow podmakers. We came together to talk about how to find ways to support and advocate for each other in this new normal while also sharing strategies and tips on how to build your network through local and remote partnerships. Africa Podfest's Josephine Karianjahi and Melissa Mbugua took the Main Stage for a lively conversation together with Lebanese podmaker Rhea Chedid moderated by PRX's Se'era Ricks.
---
Sahara Sparks - Africa's Podcasting Beyond 2020

Sahara Sparks 2020 is highlighting the paradigm shift Africa is experiencing through engaging sessions featuring a selection of Africa's finest minds. On Sunday 22nd Nov. Melissa Mbugua joined in an engaging conversation about Africa's podcasting beyond 2020 featuring Maurice Otieno (SemaBOX at Baraza Media Lab, Kenya) Samba Yonga (Leading Ladies podcast & Ku-Atenga Media, Zambia), Michael Baruti (Men, Men, Men podcast & BBC Journalist, Tanzania) & Yesaya Athuman (Podcaster & Yesaya Software, Tanzania) moderated by Essa Mohamedali of Sahara Ventures. Catch the whole chat on Youtube here.
WEEKLY PODCASTER SPOTLIGHT SERIES
Many of you have asked whether you too can be featured on our Podcaster Spotlight. If you think you have a unique African podcaster story to tell – fill out this form for consideration (Podcaster Spotlight)

On Wednesday 25 November, Nigel Ndlovu of The Voice Knot podcast from Bulawayo, Zimbabwe will be in the warm seat at 6pm Nairobi Watch the full chat on our Instagram (@africapodfest)

We have been taking every opportunity to spotlight African podcasters through regular chats on our Instagram page, through this newsletter and on all our social pages. Instagram Live is always like a conversation over lunch, hosted by Melissa and Josephine. We are frequently reminded that Africa's access to electricity and internet access is not consistent, however, we have persisted and still get to know the person behind the podcast better. African podcasters' knowledge and gems abound weekly.

Do you feel like you want to jump in and catch up on the sessions? Check them out by country on our Instagram TV (IGTV) and make sure you follow the page so you never miss an episode.
Check the weekly schedule on our Twitter, Facebook and Instagram
In The Media: Africans and African podcasting
Case No. 0 podcast: In a first, Nation Africa has launched the first of three podcasts dedicated to public service journalism, In September 2013 journalist turned blogger Bogonko Bosire disappeared without a trace. Because this was not the first time he went 'missing in action' his friends and family did not think much of it. They assumed he was pursuing a story. This is the story of who he was, and where his friends think he may be. Listen here The podcast's editor is Kenyan James Smart
Just In: Aaisha Dadi Patel's story on how media startups in South Africa were reporting on the toughest parts of the Covid-19 pandemic featured Volume Africa's Media Diaries use of WhatsApp as a distribution tool.

GNI Live 3.0 Africa Podcast : Google News Initiative held a podcasting knowledge event for newsmakers in Africa on Nov 23 with helpful tools to get you started as a news podcaster.

Congratulations! Global African Yolanda Sangweni has been newly appointed as the new Senior Director of Programming at NPR. Sangweni has long championed African women in the creative arts and has extensive experience in multimedia storytelling in the Americas and beyond.
Pod Episodes We Are Listening To:
RFI's new podcast Africa's Calling: War in Ethiopia, Uganda unrest, Western Sahara fighting, Kenya constitution changes, Burkina Faso and Ghana elections November 20 (34.07 Min.)

Pitchfork Review: Afrobeats' Global Takeover, November 20 (51 Min.)

Khwezi Science Report: Is Pollen The Bees Knees of Forensic Science (13.44 Min)
Google Podcasts creator program Advisory Committee
The Google Podcasts creator program advisory committee members are global leaders in the industry. Advisors work with PRX to select winning teams, provide one-on-one mentoring, lead or join training sessions, and contribute to creative reviews. Melissa Mbugua & Josephine Karianjahi were selected to this Committee in mid October 2020. Discover other members of the Committee here
For more info: Click on the Flyer Below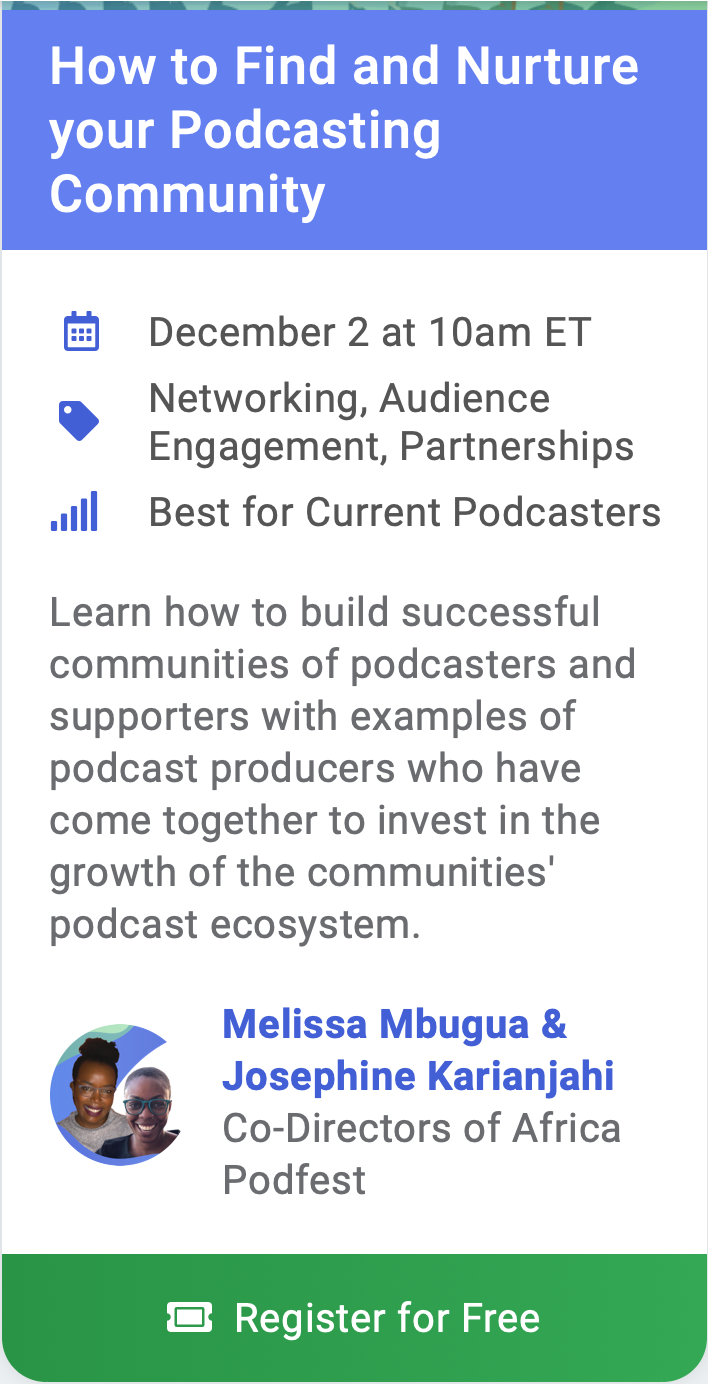 A Fond Farewell
As we step into our second year, we bid farewell to Africa Podfest co-founder and creator of Africa Podcast Day, Paula Rogo. Paula's passion and drive have been a delight to work alongside, and her understanding of the podcasting field will be missed. We wish her well in her future. You can continue following her Twitter:@KaliBawse and subscribe to her regular Pods 4 Africans column
SAVE THE DATE: Africa Podcast Day February 12, 2021

JOIN THE DATABASE: Be seen, and heard across Africa by joining the Africa Podfest database of African podcasters. Get to it here - The Database

SHARE YOUR UPCOMING EVENT FOR AFRICAN PODCASTERS: We reach African podcasters and beyond every month here and on our Twitter, Instagram and Facebook. Do you have an opportunity for the African podcaster? Contact Us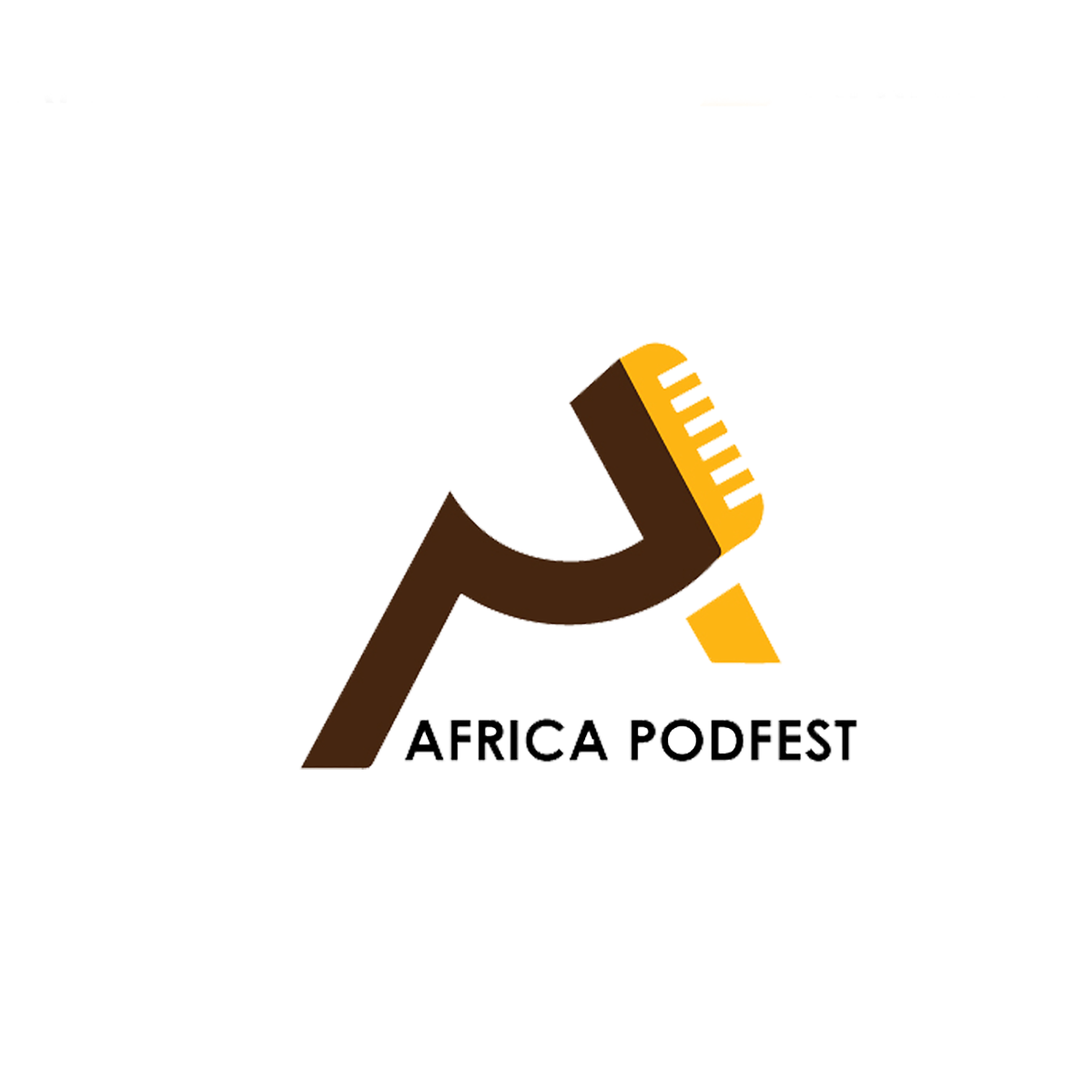 Africa Podfest inspires and elevates podcasters in Africa looking to create and grow their podcasts. We organize #AfricaPodcastDay (February 12), Africa Podfest, a conference on podcasting and the Unconference on Podcasting series. These events showcase developments in African podcasting, convene players in the new media ecosystem and boost the production of podcasts in the region. We also do original research on the African podcasting ecosystem.