Discover more from Africa Podfest's Newsy
A monthly spotlight of podcasting developments and opportunities in Africa!
Africa Podfest Newsletter: Africa Podcast Day Is Here!
AFRICA PODFEST NEWSLETTER

Africa Podfest Newsletter: February 2020
GET READY FOR AFRICA PODCAST DAY!
In this month's issue of the newsletter, we are gearing up to the first-ever Africa Podcast Day on Wednesday, Feb. 12.
AFRICA PODCAST DAY: FEB 12, 2020
With the explosion of podcasts on the continent in the last few years, we felt it was time to showcase the excitement around podcasting in Africa.

Introducing: Africa Podcast Day - a day that celebrates African podcasts and those who make them! #AfricaPodcastDay

Taking place for the first time on Wednesday, February 12 (tomorrow), Africa Podcast Day is an opportunity to connect and amplify African podcasts around the continent and the world. This inaugural year's theme is: I ❤️African Podcasts.
As a person invested in African podcasting, you can also be apart of this amazing day. We have created some great programming, including a meetup in Nairobi's Lava Latte from 4-8 pm alongside social media kits to help you also share your podcasts or your love for African podcasting. We thank International Podcasting Day for their insights

For more information, check out more here.
UPDATES FROM AFRICA PODFEST

We are a month away from the big festival and we have some exciting updates for you.

'ALIBI' SEASON 2: VOLUME'S AWARD-WINNING TRUE CRIME PODCAST RETURNS

In 2017, South African producers, Volume, gave Africa one of its most intriguing true crime podcasts: Alibi. The first season covered the 1994-to-present-day case of Anthony De Vries, who was wrongfully convicted and imprisoned for 17 years . Alibi's storytelling won Best Radio Feature in the Vodacom Journalist of the Year awards in 2017, and we are excited to have them as speakers at Africa Podfest.

Now, Alibi is back for a new season, in which they investigate the tragic killing of Priscilla Mchunu and the truth behind Laduma High.




Priscilla Mchunu was a 54-year-old acting principal when she was assassinated. She was gunned down with an astonishing 19 bullets while teaching her high school history class. An entire class of Laduma High students watched her murder and still, more than two years later, no arrests have been made.

This is the story of Priscilla's assassination. Who would kill an acting principal and why? How do you investigate a case when anyone who gets too close can be assassinated?

By exploring this case over six podcast episodes, investigative journalist and author Paul McNally follows the threads, talks to those who were there, and discovers the ins and outs of a troubling growth industry of assassinations in KwaZulu-Natal and South Africa. If Priscilla, a highly-praised acting principal at a high school just outside of Pietermaritzburg, can be assassinated - then anyone with a little bit of power can become a target.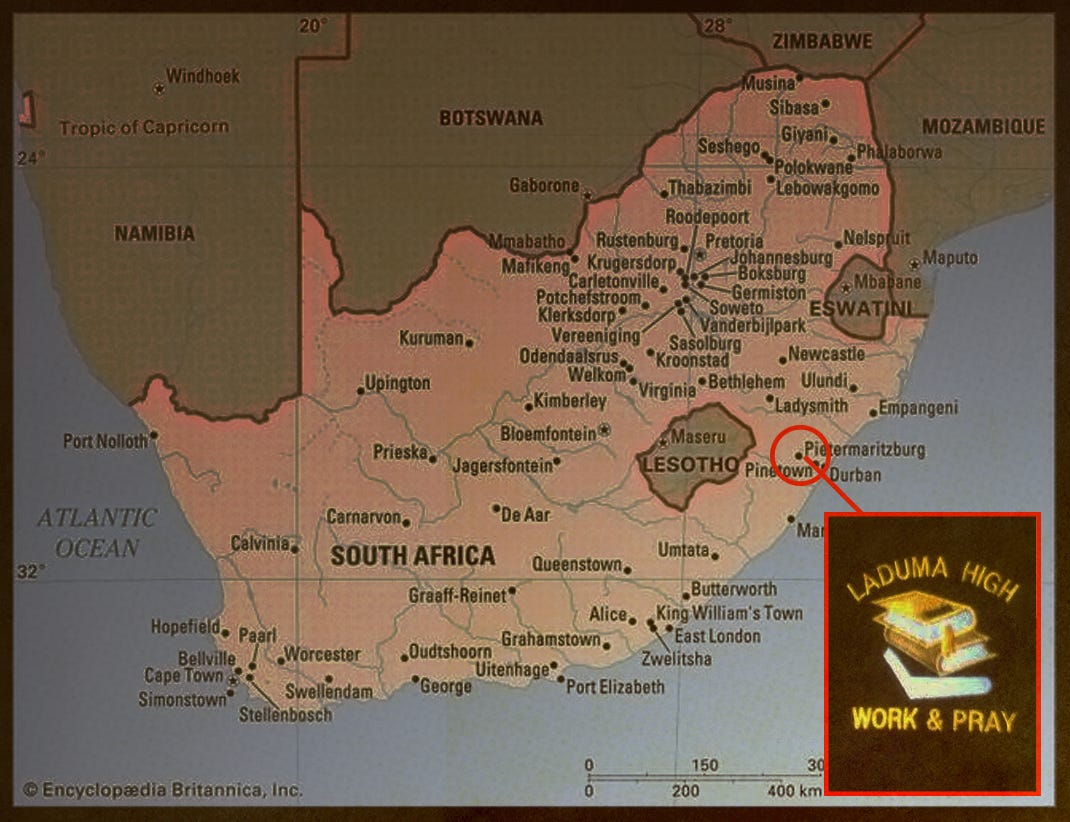 The scariest part of this investigation is that the strongest suspects, in this case, are other teachers at the school, Priscilla's colleagues and supposed mentors for the highschoolers at Laduma. As the story unfolds through first-person accounts and McNally's search for answers, an alleged conspiracy to get Priscilla's job by any means necessary comes into shocking focus.

This podcast series is produced by Volume and distributed by Arena Holdings. The show is investigated, written and produced by Paul McNally. You can give it a listen wherever you get your podcasts.
Apple Podcasts / Spotify /Google Podcasts

We look forward to speaking with Volume at Africa Podfest.
PODCASTER SPOTLIGHT:

"Tings and Things" podcast is hosted in Zimbabwe by Jonathan Mbaya and Simba Tsumba, two lifelong friends.



1. Name of the Podcast? What is it about?
The "Tings and Things" Podcast is a life-based podcast that follows the conversations of two lifelong friends chronicling their personal experiences of balancing all things life as young Africans.
2. Where is the show produced?
Zimbabwe, but we are always recording on the move and interviewing guests from all over the continent which gives us an amazing opportunity to travel and have conversations with some great guests.
3. Where are you from?
We are originally from Zimbabwe. However, we have also lived in South Africa, Kenya, and Ethiopia
4. Why did you start the podcast?
We found that through our travel and adventures, our struggles as young adults were not unique to us. ''Tings and Things'' was designed to share those experiences since those were not being discussed by traditional media outlets, and alongside with our back and forth banter and undeniable chemistry, we have found the perfect formula to exhibit the everyday stories of life in an everyday conversation way.
5. Where do you think podcasting is headed in Zimbabwe?
The space is exciting right now. There are so many different creatives that are producing some amazing content right now. 2020 is going to be a big year for podcasts. Content creators are putting out some great content and the listeners are definitely taking notice.
6. How does it differ from Kenya?
We definitely see some parallels between Kenya and Zimbabwe. The Kenyan podcast space is about to explode. Nairobi is bubbling with creativity and podcasts are an outlet that people are starting to take an interest in. We see exciting things on the horizon here.
7. If you could pick one podcast episode that captures the essence of your podcast, which one would you choose?
Our 26th Episode "Real G's move in silence like lasagna" is some of our best work. It encompasses everything good about who we are and what we are about and we showcase our elite level banter but also our willingness to tackle real and present issues facing our people.
8. Your two favorite African podcasts? Where are they from and why did you pick them?
Two South African podcasts come to mind: "Lesser Known Somebodies" is great and they have amazing guests that are incredible movers and shakers. The "Renegade Report" is also a great podcast that is super informative and that allows us to keep up with all the current affairs in the space.
9. What is one great tip you used to build your audience?
Consistency has been fundamental to our success. Our audience knows every Thursday at 6 pm East African time we are coming with an amazing episode.
10. What are Africans looking for in their local podcasts?
Original content. People gravitate towards people that they can relate to and that they find exciting, entertaining and relevant. Only you can be you.
Listen to Tings and Things here

*We look at future podcasts for spotlight consideration from our database of African podcasts. This database will be the ultimate list of podcasts on the continent. Add your podcast by filling out the form here.
TWEET OF THE MONTH

Africa Podfest and its activities are only possible through the generous support of our sponsors. One of them is our media sponsor: PODNEWS

Subscribe to receive daily reports from the podcasting industry worldwide

We have also been generously supported by