Discover more from Africa Podfest's Newsy
A monthly spotlight of podcasting developments and opportunities in Africa!
Celebrating our Readers: 1,000 Thank Yous
We have reached 1,000 Readers!
When we got an alert email not long ago from Substack, we were more than excited. To be matched with 1,000 engaged supporters of African podcasting from 53 countries around the world is amazing and testament to many of you who are energised by the growth of African podcasting and invested in Africa Podfest.
Many of you work in audio, or make and distribute podcasts. You are singlehandedly making sure our part of the global podcasting space is well known, seen and heard. We raise a toast to you!
This publication is made free for you by Ko-Fi.com subscribers, many of whom make a monthly or one-time virtual coffee delivery (starting at US $3 a cup) to Africa Podfest HQ. You can celebrate by joining the Ko-Fi.com coffee station today.
---
Celebrating 1,000 Subscribers

Founders' Note

Africa Podcast Day 2023 Recap

22 April: Short Term Paid Podcast Opportunity: KaBrazen Consortium

---
Founders' Note: Africa Podcast Day 2023 Is Global
When Africa Podcast Day started in 2020, Africa Podfest hoped that it would grow into a global celebration. As curators of the day's celebrations, we have seen this day blossom into an African celebration, with African podcasters at the centre of the celebration. This day marks the beginning of many gatherings, partnerships and celebrations. It is also a rich day full of reflection and appreciation of one another and the work of African podcasters.
Have you visited our new virtual home?
For us, this global celebration in 2023 is also a time to spotlight our new home: From our beginnings over at africapodcastfestival.com, we have fully transitioned our expanded work to podcasting.africa
Home of All-African research: We share publicly accessible podcast research which we developed with an all-African team of researchers. This work resonates with many of you, because it is intentionally for us, by us.

Keeper of the African Podcast Database: We hope that this celebration makes you pay attention to African podcasts. In fact, we have curated the African Podcast Database for this reason.

Searchable Africa Podcasting Studios (now accepting studio features): We are developing a new listing of African podcast studios from small to large scale and we invite you to list your studio, products and services.
Happy Africa Podcast Day all month long!
---
Africa Podcast Day 2023 Recap
A quick one this time - thank you to everyone who celebrated Africa Podcast Day 2023 both in person and virtually - as always putting African podcasters at the heart of the celebrations. As one commenter said: This is not just essential for podcasting in Africa, but for the podcasting medium as a whole.
Ghana : Leading podcasters in Ghana teamed up with Nexa Media for a Twitter Space featuring or an insightful discussion on podcasting at the heart of Africa with @judebrandford @minaokuru @mradaniels @ammish_ofori and @_yedonu and you can catch the recording below
Uganda: @MotivUG hosted an everything-podcasting event as part of Motiv Sunday
Kenya: In our first newsletter of the month, How To Celebrate Africa Podcast Day 2023, among others, we invited you to take part in Afripods celebration virtually and Africa Media Festival and use our fun and free graphics. Podcast Host also did a great roundup of these events here.
---
Podcast Opportunity: Short Term Consultancy - KaBrazen Consortium
Applications due: 22 February 2023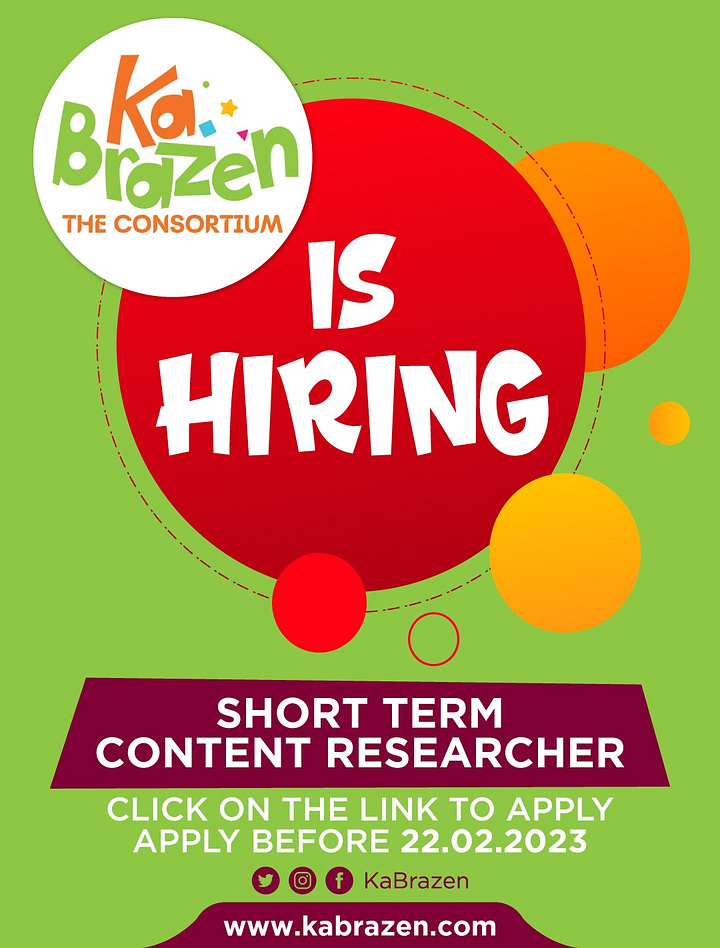 Note: KaBrazen podcast here | Short term consultancy application here
---
To advertise your event or resource with Africa Podfest, contact us hello@africapodcastfestival.com
---
Thanks for reading Africa Podfest's Newsy! Subscribe for free to receive new posts and support our work.